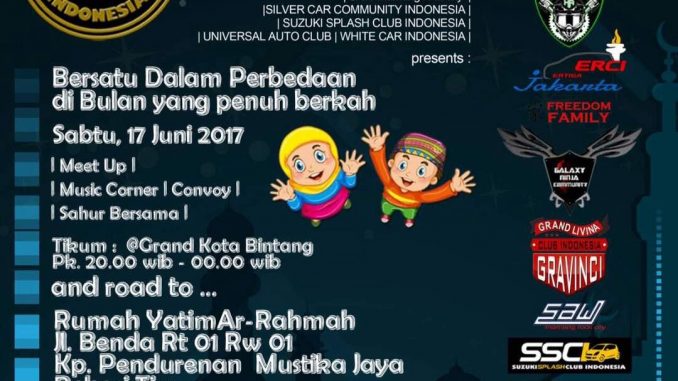 COMMUNITYpluz.com (CP) – Seperti bulan Puasa Ramadhan tahun-tahun sebelumnya, tahun ini tepatnya Ramadhan 1438H atau 2017 kembali banyak Komunitas yang ada di Jakarta, Bekasi dan sekitarnya mengadakan acara-acara. Buka Bersama, Santunan ataupun Sahur On The Road (SOTR)
Dan kali ini, DBM!Indonesia (Don't Bother Me) bersama beberapa Komunitas lainnya akan mengadakan acara Sahur On The Road (SOTR) di area Bekasi.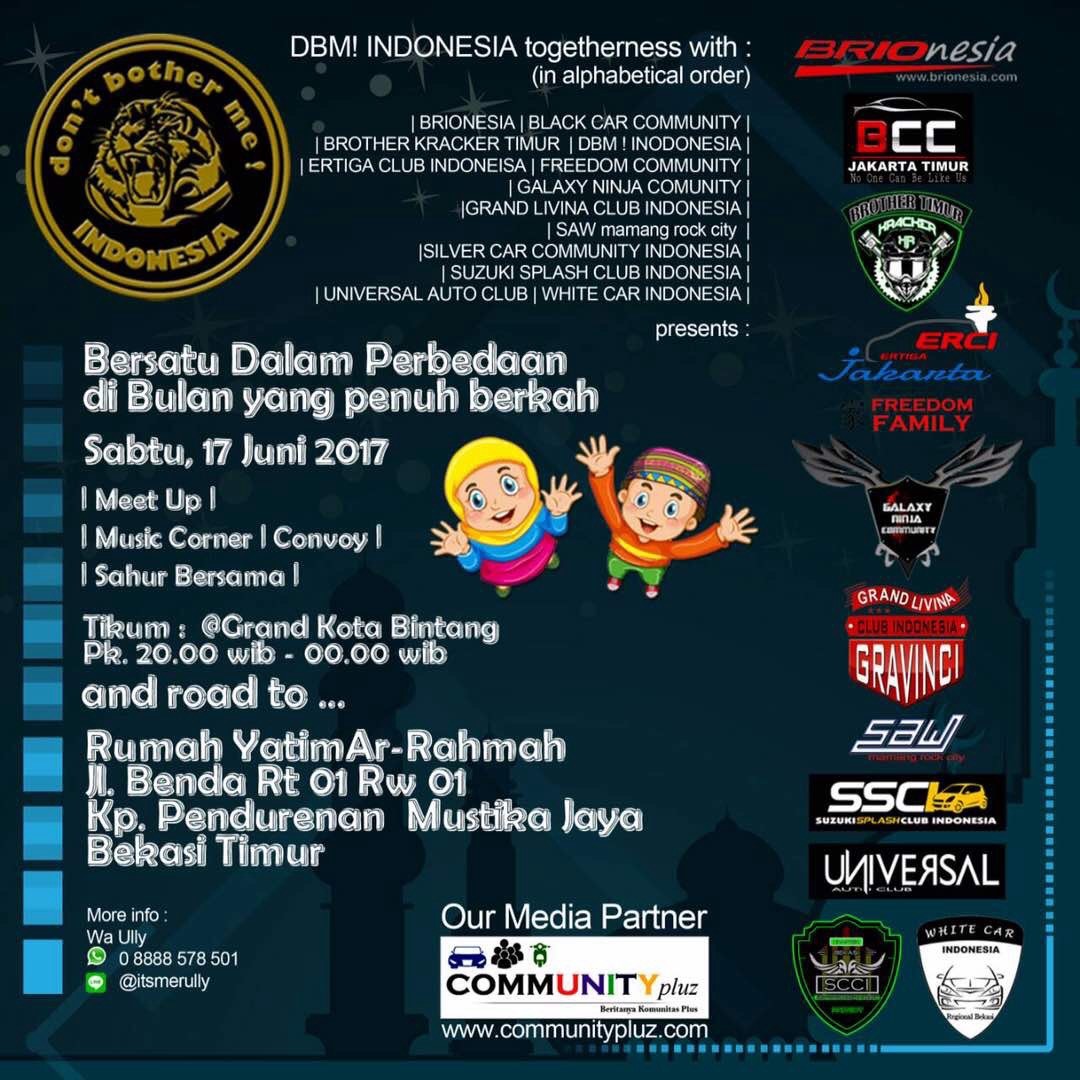 Don't Bother Me! Indonesia
presents :
"BERSATU DALAM PERBEDAAN"
Sabtu 17 Juni 2017
Togetherness with :
BRIONESIA
BLACK CAR COMMUNITY
BROTHER KRACKER TIMUR
ERTIGA CLUB INDONESIA (Jakarta)
FREEDOM COMMUNITY
GALAXY NINJA COMMUNITY
GRAND LIVINA CLUB INDONESIA
SAW
SILVER CAR COMMUNITY OF INDONESIA
SUZUKI SPLASH CLUB INDONESIA
UNIVERSAL Autoclub
WHITE CAR INDONESIA
and more club..
Our media partner
www.communitypluz.com
idr 75.000/person include donation and sahur
Meet up Club&Community
Music Corner
Convoy
Sahur Bersama
@Rumah Yatim AR-RAHMAH
Jl. Benda Rt 01 Rw 01 Kp. Pedurenan Kec. Mustika Jaya
Sahur bersama Anak Yatim rata rata usia sekolah dasar
Membantu kebutuhan Panti yaitu:
– Perbaikan atap yang roboh
– Kebutuhan biaya untuk sekolah
– Pembelian watertoren
– Santunan kepada anak didik panti
We still invite more club and community..
More info:
wa ully
08888 578 501 wa call text
line id @itsmerully
So, Don't miss it…. Come & Join Us……